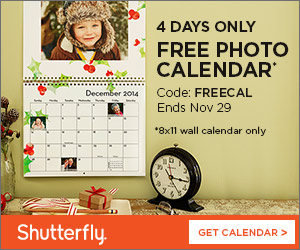 Here's a deal you'll love from Shutterfly. Right now, you can get a 12-month photo wall calendar FREE! This is a $21.99 value.

Just go here to create your 8x11 wall calendar, and use promo code FREECAL
through Friday, November 29.
You can also create the larger 12x12 calendar and pay just $3.04 with the FREECAL code. The 12x12 calendar is normally priced at $29.99.

These calendars are great quality and make wonderful gifts. I have given Shutterfly photo calendars to family members several times, and they are always a big hit.

You'll only pay shipping of about $6 to $7 for your calendar, which is a huge savings. Don't forget to grab this deal by Friday the 29th!


______________________________________________________

______________________________________________________




For more deals and coupons, check out my main deals page at MomsWhoSave.com You can also find me on Facebook and join me on Twitter, along with more than 119

,000 other bargain hunters for daily deal updates!

Don't miss a freebie, deal, or giveaway!

Subscribe to MomsWhoSave's blog posts below! Then be sure to confirm your subscription when you get the confirmation email. Disclosure:

MomsWhoSave posts may contain affiliate links that help to support this site. See full disclosure policy

here

.





Print Friendly
11/27/2013 Permalink | Labels: custom photo calendar, free offers from Shutterfly, Shutterfly, shutterfly calendar, shutterfly coupon code, shutterfly custom calendar, shutterfly photo deals, shutterfly promo code |  

This entry was posted on 11/27/2013 and is filed under custom photo calendar , free offers from Shutterfly , Shutterfly , shutterfly calendar , shutterfly coupon code , shutterfly custom calendar , shutterfly photo deals , shutterfly promo code . You can follow any responses to this entry through the RSS 2.0 feed. You can leave a response, or trackback from your own site.