Grocery shoppers, here's your Sunday coupon preview for this Sunday's paper (March 9th). This week, you'll find two Red Plum inserts and one Smart Source insert. Remember that there may be regional differences.

You can always print hundreds of coupons for free on MomsWhoSave too. Get the latest coupons from Coupons.com, SmartSource, RedPlum, Hopster, Target, and more, or search the Coupon Database!

Load mobile coupons from Checkout 51, SavingStar, Ibotta, and Cellfire right onto your store savings card or smart phone.

You will also want to try favado. It's a new app that you'll love. It does your coupon match-ups for you, showing your local grocery deals and which coupons will help you save even more. It can even email you your grocery list along with the corresponding coupons.

If you'd like to save money by subscribing to your local paper at a discount, visit this link, enter your zip code, and see how much you could save.

Note:  (x) before coupon = multiple of same coupon, DND = do not double, and ETS = excludes trial sizes



SmartSource Coupon Preview
Ajax $.25/1 dish liquid 30oz+ or auto dish pacs (3/29)
Aussie $1/2 shampoo, conditioner or styler products (4/30) ETS
Belvita $1/2 breakfast biscuits 8.8oz+ (4/25)
Benefiber $1.50/1 product (5/11)
Better Than! $1/1 dog treats (6/9)
BIC $3/1 disposable razor (4/5)
Chicken of the Sea $.55/2 5oz solid white albacore tuna (4/12) DND
Clairol $3/1 age defy, nice'n easy foam or perfect 10 hair color (4/30) ETS
Claritin $2/1 children's syrup or chewables 20ct+ (4/6)
Claritin $3/1 children's syrup 4oz+ (3/16)
Claritin $4/1 D 15ct+ (4/30)
Claritin $4/1 D 15ct+ (4/6)
Claritin $5/1 children's chewables 20ct+ (3/16)
Clear Care $1.50/1 solution 12oz+ (4/30)
Clearasil $.75/1 daily clear product (4/20)
Clearasil $1/1 ultra product (4/20)
Colgate $.50/1 kids toothbrush (3/29)
Colgate $.50/1 kids toothpaste 4.6oz (3/29)
Colgate $1/1 360 or slim soft manual toothbrush (3/29)
Colgate $1/1 mouthwash 8oz+ (4/5)
Colgate $1/1 total, optic white, max fresh or sensitive toothpaste 3.4oz+ (3/22) 

Print Friendly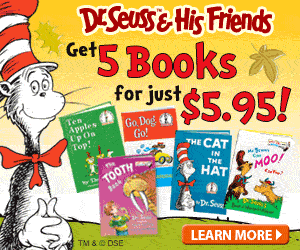 If you love Dr. Seuss, and you want your child to enjoy the same great stories you did, check out this great offer.
You can get
five Dr. Seuss books for just $5.95 PLUS a FREE activity book and it all ships free
!
Plus, in honor of Dr. Seuss' recent birthday, get a
FREE Dr. Seuss gift!
When you order now, you'll receive a FREE decorative two-sided Dr. Seuss Parent Guide with inspiring words for kids young and old.
(The Dr. Seuss Parents Guide will be automatically added to your cart.)
Join Dr. Seuss & His Friends today
- Three new books each month
- Create lasting memories with the same classic stories you loved as a child
-Wacky and wonderful characters will engage & entertain your child and you
-Control your membership online
-Risk free. Cancel anytime.
-No Purchase commitment!
-High-Quality, hard cover editions
-Convenience of home delivery for less than $5 per book!
Check out the details of this offer
here
, and see how to get
FIVE Dr. Seuss books and an activity book for just $5.95 with free shipping
!
____________________________________________________
Disclosure: MomsWhoSave posts may contain affiliate links or sponsored content that helps to support this site. See full disclosure policy here.

Print Friendly